The pickup is chilly. Several layers of clothing keep you warm though: long johns, wool socks, cuddle-duds, bright orange hats and vests. Your breath hangs in the air when you jump out making sure to meticulously close the door with care so as not to startle any wildlife in the near environment. The silence is deafening but you can't wait to get into position and hear the spine-tingling bugle of a bull elk. The hunt is on!
Whether you are setting up camp in the backcountry with pack mules and horses, or hiking through the mountains at daybreak, hunting season is a time of excitement from a whole year of anticipation. It's another shot (pun intended) at finding that game to fill your freezer for your family or at capturing the trophy bull to display with pride.
We service the states of Montana, Colorado, North Dakota, and Wyoming. This time of year sends an increased number of buyers calling about hunting ground when they remember how frustrating it is to share public land with lots of other hunters or ask for permission to hunt on private property. If you are in the market for hunting land, give us a call. Our team of agents includes active and savvy hunters who can help you find exactly what you want!
In the interim, we have some things that might help you out this hunting season. 2023 has some key changes in Colorado. For example, the limited license allocation and preference point requirements have changed. There is also an updated hybrid draw list, GMU boundary name revision, and no longer discounted nonresident cow elk license fee. Some important dates that you may want to remember:
The primary draw application deadline is 4/4/2023 at 8 p.m. MT.
The secondary drawapplication deadline is 6/30/2023 at 8 p.m. MT.
Here is the regulation brochure for Colorado with all the information!
Wyoming has a ton of information on their Wyoming Game & Fish Department. Apply for and purchase your license and preference points. Find public land access. Explore the different wildlife options.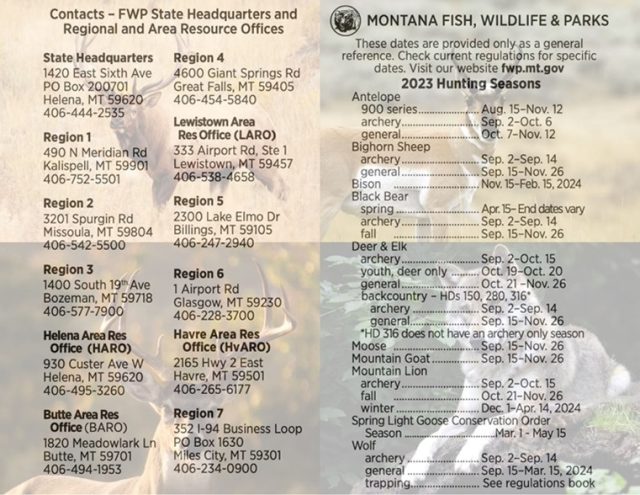 North Dakota hunting has a plethora of information on their website, from wild game recipes to guides to licensing information.
Montana Fish, Wildlife & Parks has an app and features an online platform to buy and apply as well. Here are some handy date cards to keep things organized for your hunting season.