Who in their right mind gets half naked in the dead of winter with snow piled up around walkways, wearing flip-flops and a knit beanie only to de-robe and descend into a hole in the ground filled with water that smells like rotten eggs? Let me tell you, there is something especially magical about steam drifting into your pores and the hot water easing the ache in your muscles while floating flakes fall from the sky and create this symbiotic atmosphere of hot and cold. The Montana Big Sky dazzles with millions of stars at night, making for a next-level nighttime adventure to a primitive hot spring location. The mineral-filled waters are heated to a hot, misty temperature of an average of 102 degrees Fahrenheit from the geothermal waters heated by the earth's magma. The same hot springs utilized by Native Americans and early settlers have been discovered and continue to offer a relaxing soak.
Hot springs' popularity has increased as health and wellness have moved to the forefront of priority lists post-pandemic. Sprinkled all along the Rocky Mountains, hot springs have amazing health benefits, both mental and physical. As muscle aches and pain melt away in the hot soak, so do worries and fears, as the surrounding landscape can nurture the soul. Fresh mountain air with picturesque scenery dramatically affects whatever ails you. In addition, the mineral water carrying calcium and bicarbonate boosts overall oxygen flow and circulation as absorbed into the body. Lactic acid gets moved out with circulation, reducing muscle pain and stiffness. Skin irritations and conditions can be soothed and healed from the elevated levels of sulfur and the antifungal and antibacterial properties. A good soak is a natural detox while you sweat through open pores and relax.
The States We Serve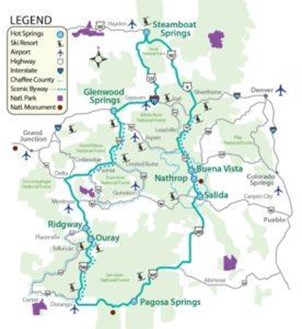 Corder and Associates has agents throughout Colorado, Wyoming, Montana, and North Dakota. It can be a bonus to purchasing recreational property when one's location is within range of a hot spring resort or hideout. Colorado offers a Historic Hot Springs Loop featuring 720 miles of touring the state's 19 diverse geothermal mineral springs, stopping in Buena Vista, Nathrop, Salida, Pagosa Springs, Ouray, Ridgway, Glenwood Springs, and Steamboat Springs. As you focus on your wellness, enjoy exploring the area and eating like a local on this memory-making road trip!
The Cowboy State has popular "hot" spots, including Thermopolis, Jackson, Saratoga, Hoback, and many more. The Hot Springs State Park in Thermopolis continues to honor a treaty made with the Eastern Shoshone and Northern Arapaho tribes, who sold the land to the federal government, that access to the mineral hot springs would remain free. The Hot Springs State Park also has a bison herd that has inhabited the area since 1916.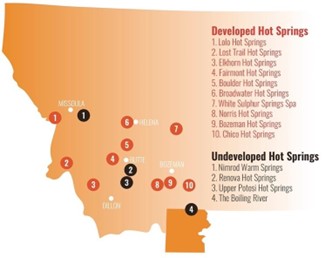 This map shows some of Montana's most popular developed and undeveloped hot springs. Traveling to any destination can be worthwhile with a stop at hot springs amid magical mountainous scenery.